*except for EU countries
Pretia Technologies, Inc. is officially launching the AR cloud platform "Pretia", on April 26, providing a Visual Positioning System (VPS) and multiplayer solution in AR.
Official website: https://arcloud.pretiaar.com/en/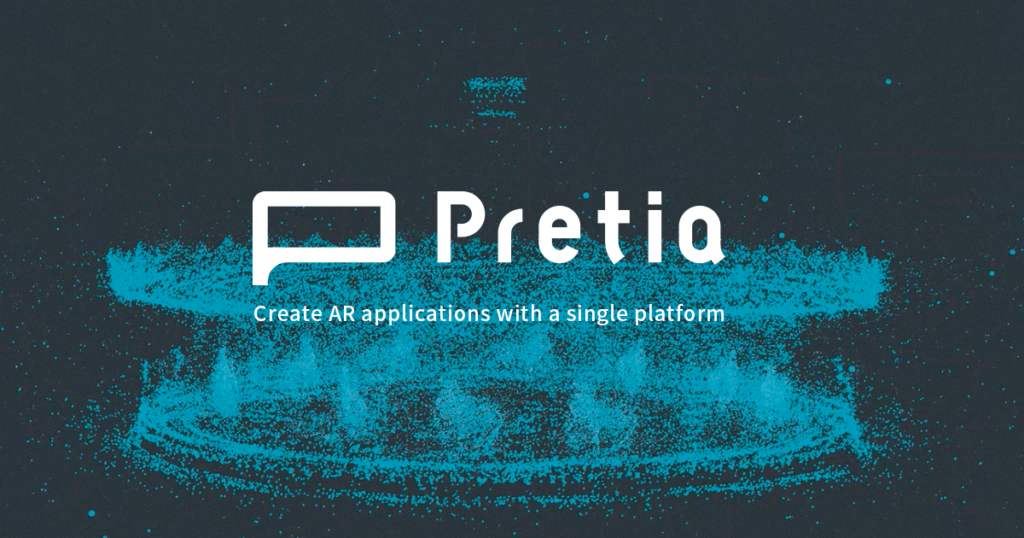 ■ Current AR market landscape and the challenges Pretia is solving
What we call AR is a series of technologies that enable the "virtual extension" to the world you actually live in, by overlaying digital content onto reality (or the physical world).
As a new form of media, we are seeing the potential uses of AR in a variety of fields, including not only entertainment but also education, healthcare, retail, and industrial.
The AR market is expected to grow at a roughly 40% every year until  2027.
To drive the widespread usage of AR, OS-layer developments are ongoing at global IT majors such as Apple and Google, with additional plans to market AR Glasses and MR Headsets as well.
While we do see news releases in the AR space from major IT players, we do not feel that many people have seen their lives become any  more enjoyable or convenient thanks to AR. Pretia Technologies believes the following three main reasons help explain why the use of AR is not so active despite the ongoing prevalence of AR-experience-enabled devices.
1. Significant disconnect with reality
Development of the AR experience that share the laws of physics with the physical world has been a tough job technology-wise;
2. Low availability of AR for group/multi-user experience
Development of an experience similar to what you have in the physical world using AR that "allows a shared AR experience among two or more users reflecting their interactions over other users" requires integration of different tools, with a high degree of technical difficulties;
3. Development costs remain too expensive
Development of the AR experience resolving and enabling both 1 and 2 used to require front- and back-end developments at the same time, which made no business sense from the profitability perspective, thus keeping many promising projects from taking off.
The AR Cloud Platform "Pretia" we are officially launching this time is a service that resolves these three challenges, "Disconnection with reality," "AR for group/multi-user experience," and "Development cost." The platform allows you to develop AR for a group/multi-user experience that is conformant with the laws of physics in the physical world at a lower cost.
As a result, we expect to broaden the AR application use cases for growing opportunities for use of AR among enterprises/projects facing challenges in the "fusion of real and digital" and "creation of a new form of communication."
■ AR experiences that Pretia enables
Using Pretia, you can enable:
Content where multiple users are able to see scenes and animations, with exactly the same placement in the real world;
RPGs where a group of people can organize parties , turning the whole town into a story stage;
Navigators in which animated characters or avatars move around in buildings and commercial facilities to help with navigation;
Ads that come to life by scanning with a smartphone;
AR-enabled puzzle games leveraging the features of buildings and shops;
Navigation in a warehouse or a distribution/logistics base; and
Visual operation manual at a plant
to promote the active use of AR whether it is B2B or B2C.

■ About "Pretia"
Pretia is the AR cloud platform which makes it easy to develop AR experiences.
Components of Pretia
Pretia provides the following tool based on development with Unity
・3Dscan App
A dedicated smartphone application for making point cloud based 3D maps of real spaces.
Runs on Android*; no depth sensor such as LiDAR required.
*Only for Android smartphones which support ARCore so far. iOS version will be released within a few months.
・Developer Console
Website for organizing 3D maps, applications and members. Works in browsers such as Google Chrome.
・Pretia SDK
SDK connects Unity and the Pretia servers. Which for importing of 3D maps, placing AR content on maps and enabling shared experience.
Key function offerings
3D mapping (point sets-based)
Achieves fast 3D mapping using the dedicated scanning app.
3D map extension/synthesis
Extends the created map as necessary or even synthesizes the maps from different time slots, lessening the risk of localization failures.
Content authoring
Places the virtual objects using the scanning app for loading by Unity with the point sets and adjusting the object locations on the built testing app when creating the map.
Development team/member administration
Administers addition, removal, and access rights of the team members on the developer console for easier development in a group.
Relocalization
Quickly localizes and tracks the location/motion with extreme precision based on the prepared 3D map, accurately delivering the intended AR experience to end users.
Available on both Android* and iOS*.

*ARCore must be supported.
*ARKit must be supported.
Multiplayer
Enables development of the AR experiences which multiple users can share concurrently as we have built a multiplay cloud server.

■ Current status of the service and its future development
Having started pre-registration for closed beta in March 2021, over 300 users across the globe have registered upfront, and we have received an extremely good rating by active users with an NPS score as high as 33.
We also conducted a hackathon from which numerous AR experiences using Pretia have been produced.
Going forward, we will be exhibiting our technologies at relevant conferences, aiming to deliver our service to AR developers worldwide.
Our research and development will carry on after this official launch and we will keep working for higher localization accuracies, enhanced user experiences, and new functionality additions to realize our corporate mission to "Empower collaborative achievement" through AR.

■ Service Overview
How to start to use
Create account on the official Pretia website ( https://arcloud.pretiaar.com/en/ )
Required Specs
Unity: 2020.3 LTS version
iOS: iOS 11.0 or higher (A9 or later processor) with ARKit
Android: Android 7.0 or higher with ARCore
Price
For personal development and testing are free.For business use, please contact us via https://corporate.pretiaar.com/en/inquiry/ or community slack.