Hey gamers! Get ready to level up your AR game experience with Pretia Technologies Inc. at the Game Developer Conference 2023 (GDC 2023) in San Francisco, California, from March 20–24, 2023. We're excited to announce that we'll be exhibiting at this amazing event where game developers from all over the world come together to showcase their latest and greatest creations.
At Pretia Technologies, we're all about making it easy for developers to create fun and immersive AR games that blow gamer's mind. That's why we're showing off our Pretia AR Cloud Platform at GDC 2023, which lets developers place AR objects without any image markers, integrate AR objects into the real world, and share the same AR contents between players in real-time.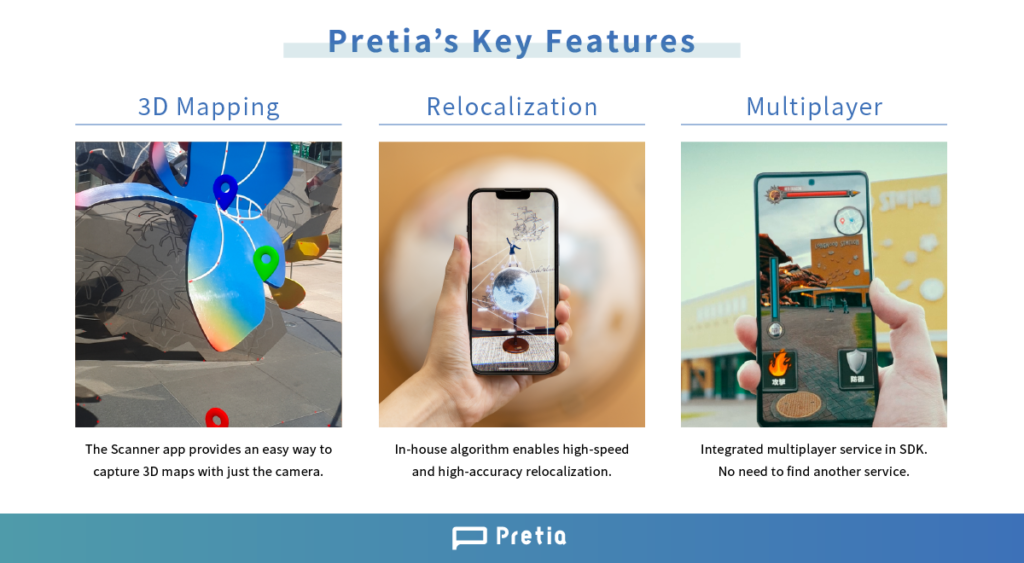 If you want to see our AR technology in action, come visit us at booth S164 during the conference. We'll have live demos and a team of AR experts on hand to answer all your questions. Plus, we'll be available for business appointments after the conference if you want to discuss how we can help you create the next big thing in AR gaming.
"We can't wait to show you what we've been working on over the past 4 years," says Yu Ushio, CEO of Pretia Technologies Inc. "Our technology lets game developers unleash their creativity and take their AR games to the next level. We're looking forward to discussing how our AR technology can help game developers create the next generation of immersive and interactive gaming experiences. It's going to be a blast!"
So, grab your friends and come join us at GDC 2023 for a fun and exciting look at the future of AR gaming. See you there!
For more information about Pretia Technologies and our AR cloud platform, visit our website at https://arcloud.pretiaar.com/home or follow us at @pretia_official.
-ENDS-
About Pretia Technologies, Inc.
We are a start-up that designs and develops AR cloud and AR experiences. After years of gaining experience building our own games and offering business solutions, we now aim to help other developers achieve their dreams through Pretia AR Cloud.
Our mission is to "Empower collaborative achievement" and we have members from all over the world working towards this goal. We are headquartered in Tokyo, Japan, and initially started out creating AR puzzle games. Currently, we are aiming to promote and socially implement AR through AR Cloud "Pretia".